Price per Unit plug-in for WordPress and WooCommerce calculates the automatically how much will cost one unit of your goods and then displays the recalculated price
Recalculation per different weight or number
Sometimes you may want to use different unit or weight than specified on shipping tab.
This is handy for several cases:
You want to sell pack of t-shirts and you want to show price for one piece.
You are selling food in some package and you want to show price per net weight yet you need to keep the gross weight for shipping purposes.
There is many scenarios for this option and it is just up to your need or imagination to use it to your benefit.
Full variable products support
Recalculated variation price is displayed under normal price after variation is selected.
Recalculation per different weight unit
This is useful when your shop has a specific weight unit – let's say kilograms and you want to show the the calculation for different unit – this time it's gram. This feature works acros all the WooCommerce default units (kg,g,oz,lb).
Recalculated price is now shown also on Cart page. If your theme supports Minicart it should be also visible there – this depends on themes developers.
Custom ratio - recalculation per different units number
Normally the recalculation works per one unit – if I have shop in kilograms it calculates price for 1 kg. This feature can help you if you need to show the price for different number of kilograms  – perhaps per a ton(if you are selling wholesale) or maybe just per 100 grams.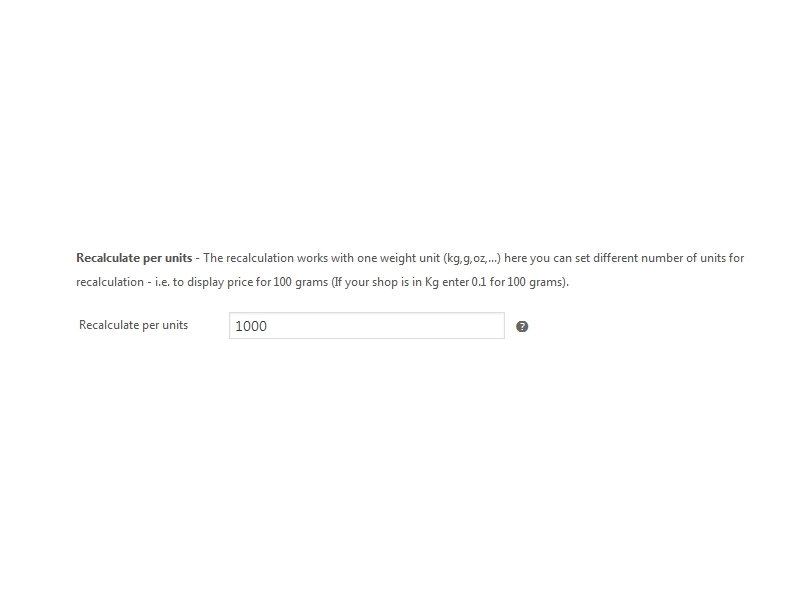 Single e-shop
Suitable for individual e-shop owners
14 days moneyback guarantee
Small busines
Suitable for small business owning several e-shops
14 days moneyback guarantee
33% discount off the basic licence price
Developer
Suitable for developers working for several companies
14 days moneyback guarantee
50% discount off the basic licence price
Extended compatibility for plug-ins
Create beautiful, responsive WooCommerce product table layout with ease!
Since plugin version
2.1.0
Increase conversions through dynamic discounts and price rules, and build powerful and targeted offers.